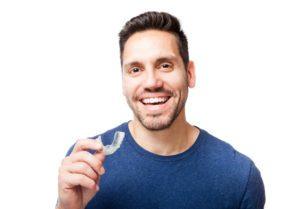 An Invisalign® treatment in Austin, Hutto, Leander and Round Rock, Texas, is a great way to straighten teeth using clear aligners without the bulk and appearance of traditional metal braces. The almost invisible braces are removable, which means your teeth can be straightened without the look or feel of metal braces. You will be able to brush and floss your teeth normally to maintain healthy gums and teeth, and there are no wires, metal or brackets to cause mouth abrasions. Having a removable aligner also allows you to eat many foods that cannot be enjoyed while wearing traditional braces.
What is Invisalign®?
Invisible way to straighten your teeth without braces.
Series of clear, removable, custom-made aligners.
Uses no metal wires or brackets.
Custom made for comfort.
How does Invisalign® work?
Wear each set of aligners for about two weeks.
Remove only to eat, drink, brush and floss.
Your teeth will move gradually each week.
Visit us every 8 to 10 weeks.
Total treatment time averages 9 to 15 months.
Average number of aligners is between 18 and 30.
Call Austin Family Orthodontics today at 512-258-9007 to learn more about the benefits of Invisalign and schedule your consultation with one of our experienced orthodontists. We are looking forward to straightening your smile!
Share this: