With all the latest innovations and advances in orthodontic treatment, there are now more options for patients who require braces. Along with the classic metal braces, we now offer clear braces and removable orthodontic aligners.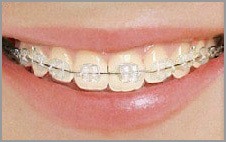 Clear Braces
Clear braces are made of a see-through material. Their cosmetic appeal has made them a popular choice. Clear braces are in growing demand, but there are a couple of drawbacks because they are a little more fragile and may discolor between visits.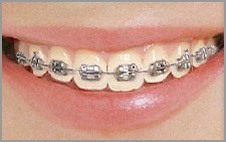 Metal Braces
Metal braces are made from top-quality stainless steel and are smaller, more comfortable and attractive than in the past. These are the classic braces that have evolved over time to be strong and effective treatment appliances.
Eating With Braces
Good foods to enjoy with braces:
While you must modify your diet during treatment, there are still many things you can enjoy. Here are some examples:
Ice cream
Cakes and pastries
Soft cookies
Mini pretzel sticks, thin chips and crackers
Be sure to brush after these snacks!
Foods to avoid with braces:
Ice
Raw carrots, apples and corn on the cob
Hard cookies, pizza and bread crusts, tough bagels, hard pretzels, and granola bars
Popcorn, corn chips, nuts, peanut brittle
Beef jerky, ribs, Buffalo wings
Hard candy (Jolly Ranchers, Lifesavers, Mints, Skittles, Starburst)
Sticky Foods like caramel and candy apples
Chewy Candy (Milk Duds, Sugar Babies, Rolos, gummies, Swedish Fish, Twizzlers, taffy)
Rice Krispy treats
Give us a call at 512-258-9007 to learn more about braces in Austin, Hutto, Leander and Round Rock, Texas, and schedule your appointment with one of our orthodontists at Austin Family Orthodontics.
Share this: